You have made an awesome decision to join only ISO Certified online jobs without investment. In India, there is so much negative activity in the name of genuine online jobs. So it's so much confiscation which online jobs should we join and which one is a scam. We have already discussed on how to set up your office for Online Jobs at Home so today we are going to discuss the legal matter of the deferent type of online jobs in India. Let get started-
What is ISO certificate and Govt. approval for online jobs?
ISO means- The International Organization for Standardization (ISO), as per Wikipedia ISO is an international standard-setting body composed of representatives from various national standards organizations. Founded on 23 February 1947, the organization promotes worldwide proprietary, industrial and commercial standards. When a company gets ISO standard after a quality audit you can trust them. The service and customer management will be way better than other. So if you are looking legitimate online jobs then better to checked out ISO Certified online jobs without investment.
Inspire from your Search: Genuine Online Jobs Without Investment With PAYMENT PROOF
On the other hand Don't forget to check Govt. approval, whether a company or enterprise is registered will India govt. Also, check out Tax (IT) filling details. An online jobs provider company be approved by Proprietorship, partnership, Uddog Adhar small enterprise, LLP or OPC or one person company, LLP(limited liability protection) or Private limited. Hence as per business model govt. approval status will be varry.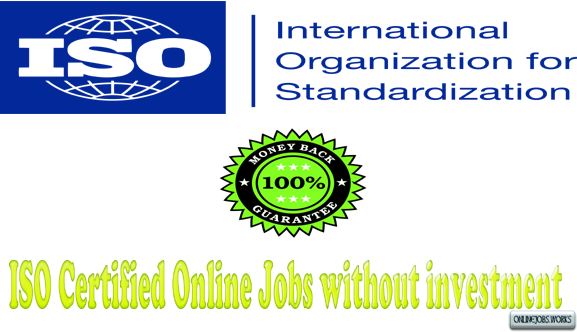 Is MCA approval is a sign of Genuine Online jobs?
It's very honest that few of scammer use the name of MCA registration and create a fake website. So beware of them, as scamdesk.com already expose how MCA register online jobs provider make people lost their money.
Help: FRAUD Online Jobs Scam using Ministry of Corporate Affairs
So to be honest MCA register online jobs is nothing but they are very big in business and register as a private limited company. But don't forget about saradha in website Bengal a big private limited scam lot of money using their scheme. So always check how big they are, check the domain age and then apply.
Safety is number one priority for search online jobs in India
 CYBER EXPO online jobs – ISO 9001:2008:
CYBER EXPO is not registered with MCA, but its running successful online jobs business in west Bengal for last 4 year, It's ISO 9001:2008 ISO Certified. Currently, CYBER EXPO offer Online ad posting jobs to all over the India. CYBER EXPO make your payment regularly directly to your bank account. CYBER EPXO offer daily work daily payment ad posting jobs and weekly payment content writing jobs. You can don't have to pay any upfront payment or registration fees to get started. CYBER EXPO is the Best ISO certified online jobs without investment as per 2013 survey in India.
Universal info Service- ISO 9001:2008:
USI offer ISO certified data entry work from home. You can start doing online data entry jobs (currently, UIS don't have offline data entry jobs) But UIS don't have any free or trial online jobs. Over-all comparing to market UIS offer much chip and offer govt. approved data entry work at home. So this two reason will enough to join UIS ISO certified online work.
Additionally, UIS offer online jobs for students from home. The registration fees are appreciated to students of Rs- 500.00 to Rs-1500.00 and after completing the work registration fees will be refundable. How cool is that?
Next to Read: 5 Genuine data entry jobs in India make payment on Time
Alos Read: 10 Genuine Online Night Jobs that PAY Daily in INDIA
Do you know any more ISO certified online jobs without investment? Let us know into the comment section and we will update into blog proudly.

Next to Read: 5 Amazon online jobs without investment – Work at your Home
Previous to Read: Online Jobs at Home – How I Earn 300K and Set up My Office?